Asana is a productivity tool that helps teams of all sizes become more efficient and effective in working together. It provides an online workspace where users can track anything with less effort. Indeed, the clarity and accountability present in every task and team all lead to great results. Aside from these important characteristics, this enterprise application also makes it easy for users to be consistent in their performance while saving valuable time and money through templates. The new Asana project templates make it simpler to add workflows for common processes and still allow for custom edits. If you are looking for a powerful extension to Asana, we suggest trying out our own Bridge24 for Asana.
Introducing Asana Project Templates
This December, Asana announced the availability of pre-made templates for all users. It is true that every organization is unique because every person in it is also unique. However, certain structures and processes can be common at its base. For example, regardless of focus or industry, every organization hires and welcomes new members into the organization. Also, at some point in time, every company holds some form of meeting with its staff for a specific agenda. In these cases, utilizing templates is a very efficient way to save time and create a consistent starting point.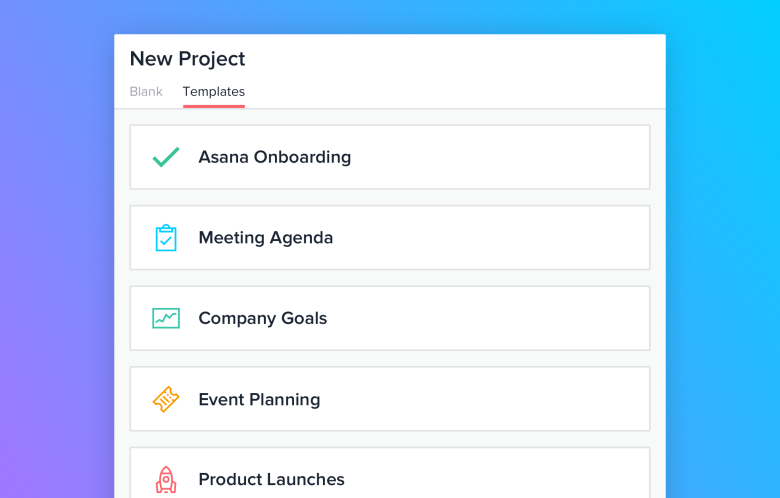 Asana is offering its free plan users the access to two templates. These are templates for Asana Onboarding and for Meeting Agenda. These templates help users learn the basics and key features of the application, as well as keep meetings organized and actionable. For Premium customers, six more templates are available:
Product Launches – for tracking all activities related to a product or feature launch
Bug Tracking – for filing and fixing bugs across browsers and platforms
Event Planning – for planning and running the next event
Company Goals & Milestones – for setting company objectives and key milestones
Candidate Tracking – for tracking employee candidates from application to hiring, and
Editorial Calendar – for planning and tracking all content from the team.
How to Use Asana Templates
Users can easily access and use an Asana project template. The first step to make is to click the orange + button in the top bar. A dropdown will appear and users should select Project. When the New Project window appears, they should select the Templates tab. The different available templates are listed, and users can preview them to see what they look like. If the user feels that a template can work for the team, he or she should click the Use Template button. They can read the instructions and suggestions in the Read Me task that comes with the template. Another way to access the template is by clicking the + button next to Projects in the sidebar.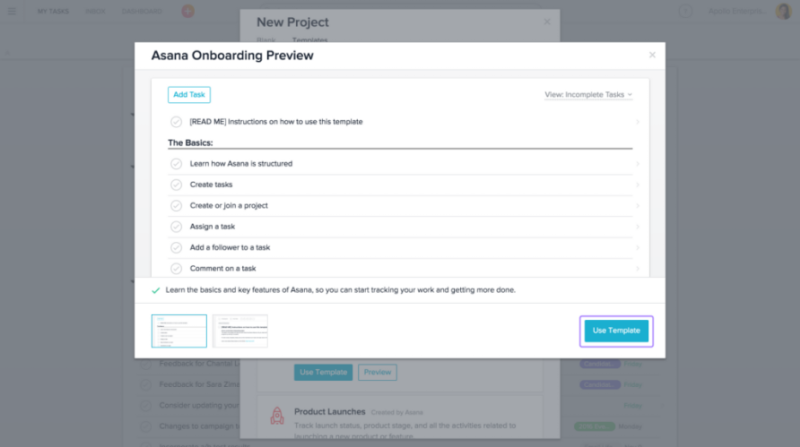 Quick Way to Create Your Own Template
Asana allows users to further edit the project created from the template. Thus, users can change, add or delete anything in the newly created project to customize it to better fit a team's workflow. Premium customers can add more custom fields to help them track the information that is most important for the team.
The development team is still working on a feature that will allow users to create and save their own templates and make them appear alongside the other Asana pre-made templates. In the meantime, users can use the Copy Project feature. For instance, users can create a project template, then save it with the word
[TEMPLATE] in front of the project name. Hence, users can just copy it whenever they need to start a similar project.
Easier Way to Track Your Work
Asana is also allowing users to suggest a template they need for their own team. At the bottom part of the Template tab option, users can click a link for them to suggest this requested template. All feedback is being considered as the application continues to expand the types of project templates being offered. To learn more of the latest updates and other new features, visit Asana on Twitter, Facebook, LinkedIn or YouTube.