Project management systems have become essential for every business's smooth functioning and management – big or small. Over the years, project management as a technique has been boosting project success to new heights, and its relevant tools and software have become a must-have for organizations.
With so many alternatives available in the market today, it can be tricky to choose the perfect PM system suiting your needs. From multinational e-commerce companies to local escape rooms in Bangalore, PM tools can address subtlest requirements specific to your business. Since there are so many factors that you can take into account while choosing a PM tool for your needs. Here is something to make life easier for you.
Let's take a look at the break-up and comparison of the features of two of the most popular PM systems – Basecamp and Trello.
Basecamp – A project tool that is simple, adaptable, and only contains the features that you require. It has excellent images and a variety of packages to choose from.
Trello – A project management application that allows you to keep track of projects and assignments. It also tells you who is in charge of the projects and where they are in the process.
1. Features and User-friendliness
When choosing a PM tool, you should take note of its features. Your ideal project management program should encourage collaboration, organize resources, and integrate your preferred business services. Make a note of the ease of usage as well. The last thing you want is for team members to struggle with the tool.
Trello's power comes from its ease of access and adaptability. Trello is both simple and easy to use. Everything focuses on the extremely adaptable "cards" that you create. Lists and categories are used to organize the cards. They can be allotted to team members, discussed, subscribed to, given due dates, and moved from one list to the next. You'll get an unlimited number of cards and the ability to add as many board members as you want. It also has a number of exciting features and many connections, like Ganttify, Zapier, Marketo, and SupportBee, that provide the tool even more flexibility. It helps the users with fundamental features like real-time communication, infinite cards and board members, tasks and due dates, email notifications, and categories and lists.
Basecamp is an excellent tool for basic project management. The quick and easy setup ensures that you get going with the work in no time.  However, the application may be a bit too simple, omitting important communication and collaboration features seen in similar programs. The system offers a wide range of project management tools, including to-do lists, file and document sharing, and notifications. They also have useful connectors like LessAccounting, TeamGantt, cloudHQ, and SupportBee and additional capabilities like agenda and calendar views.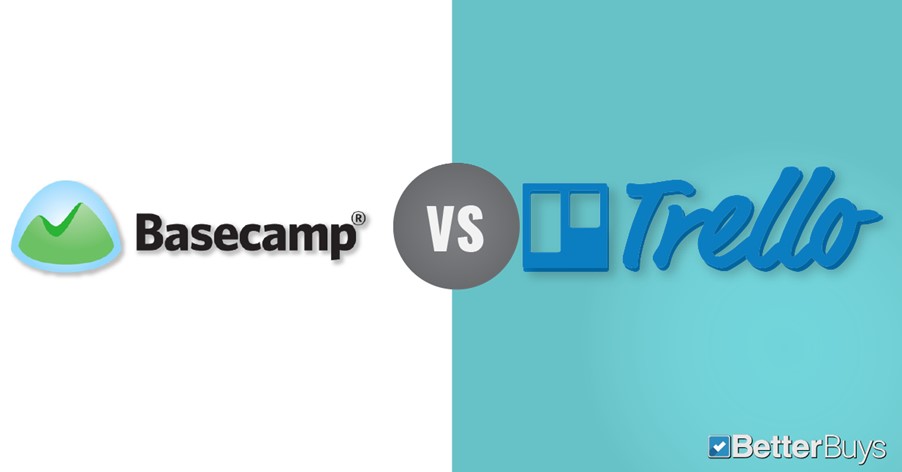 2. Cost-Effectiveness
You should choose a project management technology that reduces the need for timely reporting and status updates.  Furthermore, the tool should result in more accurate analysis, lowering the likelihood of costly errors. When comparing different levels of features and integration choices, evaluate the potential return on your investment from an upgrade.
Basecamp offers a free version of their software as well as a single premium option for a flat monthly charge of $99. The free version has some limits, such as three projects at a time, 20 users, and 1GB of project file storage capacity. The paid version has no restrictions, which is especially useful for large teams because a per-user fee can quickly add up.
Trello's price structure follows a more standard pattern. The free version offers unlimited personal boards, cards, and lists; 10MB file attachment limit; 10 team boards; one power-up per board; 50 automated command runs per month; two-factor authentication. Trello Business Class costs $9.99 per user per month, which adds the benefits of a 250MB file attachment limit, priority support, custom board backdrops, unlimited team boards, custom fields, calendar view, app connectors, and 1,000 automated command runs per month to the earlier features.  Trello Enterprise starts at $20.83 per month per user, with rates gradually decreasing as the number of users increases. All prior features, as well as unlimited command executions, no attachment limits, power-up administration, and tailored onboarding, are all available.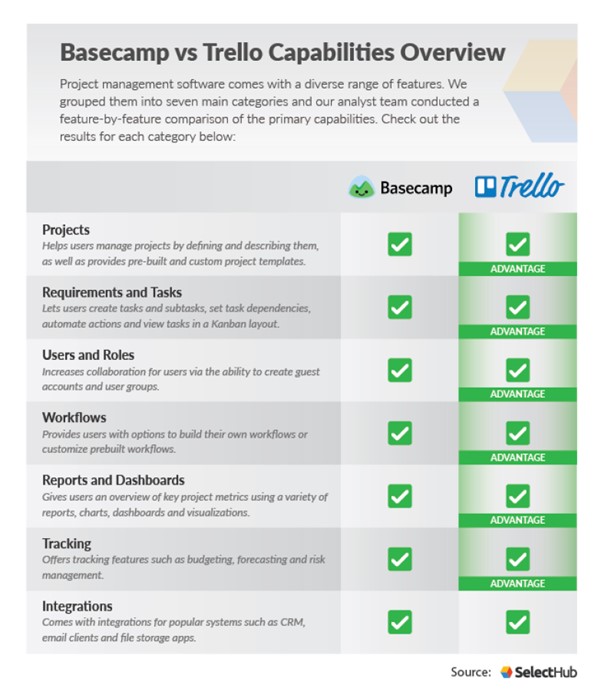 Trello is a key player in the project management app market. It is a comprehensive and capable solution because it includes all of the essential functions as well as valuable integrations. While Basecamp has a variety of plans, its project-based pricing limits your options and may end up costing more in the long run than rival products. Basecamp is a great project management tool for an individual or a small team. Trello, on the other hand, is more suited to your demands if you're searching for a one-stop-shop that combines project management, communication, and collaboration.