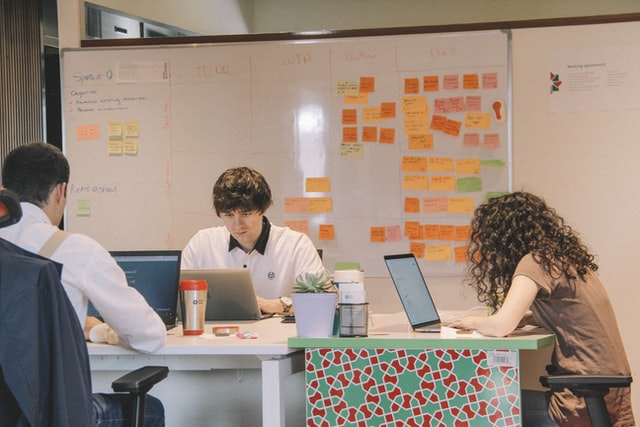 If you're facing issues with inefficient task execution, missing deadlines, and lack of communication within your team, task management tools are what you need. These solutions can help you effectively overcome these challenges and optimize business processes within your organization quickly and effortlessly.
The task management software market is expected to reach annual revenue of 4.33 billion U.S. dollars by 2023, meaning this solution is worth attention. Keep reading to get familiar with the best task management tools for teams and individuals and define their benefits in order to choose the appropriate software.
Software Development Process
The software development process comprises six stages: planning, analysis, design, development, testing, and maintenance. When following these phases, the development process becomes predictable and manageable. However, companies still risk facing issues with prioritizing tasks and tracking time, which can be easily solved using task management tools for small businesses.
Team task management software will help you prioritize business activities, set deadlines, and always stick to them. Besides, it allows companies to centralize their work activity and improve their efficiency. Thus, this solution is perfect for moving through different software development stages in order to monitor the team's performance and to ensure all projects are done on time.
Top 3 Task Management Tools
Have no idea what task management tool is the best for you? Check out the top options represented on the market and get familiar with their features and abilities to understand what software best fits your business:
Asana
Asana is one of the best task management tools that has been on the market for a long time but is still among the most popular solutions for online task management. This software helps focus on the project tasks and prioritize them for your team.
Key Features:
Task Tracking & Management
Drag & Drop Interface
Document Management
Shared/Private Access
Subtask Checklists
Data Export & Security
Task Analytics & Forms
Third-Party Integrations (Slack, Zapier, Hubstaff, etc.)
Team Collaboration
Basecamp
Basecamp is another popular task tracking software for managing multiple projects simultaneously. It enables an effective workflow process by making teams more productive and well-organized. Besides, the usage of this solution allows you to track the progress of a project in real time.
Key Features:
Task Management & Scheduling
Team Management
Project Templates
To-Do Lists & Message Boards
Notifications, Message Board, Direct Messages & Chat
Recurring Tasks & Deadline Reminders
Activity View (for managers) & My Stuff View (for individuals)
Documents & File Storage
Various Third-Party Integrations (Basecamp 3)
API (Basecamp 3)
AceProject
AceProject is a team task management tool for tracking projects and managing them during the development process. This task management software is a perfect solution for individuals, teams, and enterprises to control their workflows.
Key Features:
Project Tracking & Task Management
Intuitive Interface
Timesheet Reporting & Expense Tracking
Document Sharing
Mobile Access
API
Benefits of Task Management Tools
Task management tools provide many benefits that help you and your team improve communication to complete all phases of your projects. This software has a great impact on the growth of your business, so it is crucial to know its essential benefits:
Team Collaboration in Terms of Remote Work
If you have a small team, it can be easy to get in touch with everyone's progress. However, as your team grows, it'll be hard to control the activity of every member, especially while working remotely. Still, you can solve this issue using free task management tools, which allows you to make the workflow more flexible.
With task management software, your team will keep up-to-date with the current tasks for completing their part of the work effectively and on time. Besides, it helps remote team members get all task updates in real-time.
Plan and Manage All Tasks
Whether you're working on single or multiple projects, you will have dozens of tasks with specific deadlines for various team members. Task management tools will help you keep all the essential information in one place in the form of cards, notes, and calendars.
The task management software provides a central integration platform where you and your team members can save all the activities you have performed. Besides, this solution prevents you from losing any sensitive information, critical tasks, and deadlines.
Task Prioritization
Task management tools for individuals and teams will help you prioritize tasks in the most effective way. All deadlines, meetings, and other activities you input into the system will be stored in the software, helping the team members effectively manage their time in order to achieve deadlines.
Time Tracking
One more task management software benefit is time tracking, which allows you to monitor the time each team member spends on a specific task. This will help you check the efficiency of your employees' activities and track the time necessary to complete all tasks within the project. You can use the obtained information to define your team's strengths and weaknesses.
Conclusion
Overall, task management tools provide many advantages for your business, simplifying the process of complex tasks. Using these solutions, you can optimize your software development process, thus reducing costs and effort on all your developmental stages. Consider your team's needs and project requirements when choosing the best free task management software to improve your productivity and effectiveness.