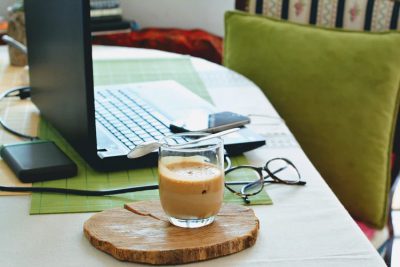 The global pandemic outbreak has changed the way we work in just the last few months. More and more companies around the world are encouraging their employees to work from home, trying to halt the spread of the virus.
Now, remote working is such a new norm for most workers across the globe. Getting used to the new routines is not the easiest task, especially for those office-bound employees.
It takes time and effort to adjust and stay productive while working from home. Luckily, this post shows you the ropes.
#1. Adjust Your Goals
In these unprecedented times, you need to understand that your regular work patterns and team dynamics will be disrupted. It also will generate new and competing goals across your business to stay relevant.
That's why you need to review and rethink your goals. It would help if you kept goals that are still relevant and possible to accomplish. With clear goals, it'd be much easier for you to stay focused on critical priorities.
#2. Define Your New Workspace
To get used to the new norm quickly, you can try to set your new workspace at home. It'll help you to get more privacy and establish yourself in a working-mode, boosting your productivity.
The workspace doesn't have to be a dedicated office, even a small table in the corner of the living room should work. The key is that it should be an area where you can minimize distractions and allow you to focus.
#3. Stick to Schedule
Working remotely also means more flexible hours. The typical nine-to-five schedule is fast becoming obsolete. However, it's crucial to stick to your work schedule even when you're working from home. It does not only help you to boost your productivity but also to help you to adjust yourself working in a different environment.
Start your work at home at the time you would start working at the office. And remember, you shouldn't sit and glued to your screen all day. Take regular breaks, have lunch, get some snacks– again, just as you would in the office.
#4. Keep the Boundaries
Let's say that working from home and distractions go hand-in-hand. From the household chores, comfy couch, to family members, there are a lot of constant distractions that can be a huge productivity killer.
The best way to deal with those distractions is by keeping clear boundaries. You shouldn't mix your work and personal matters. It means that you should get your job done during your work hours and only stop for self-care.
#5. Use Collaboration Tools
When it comes to remote working, effective communication is one of the biggest hurdles for many. But, thanks to the internet, now you and your team can still be synchronized and working in harmony using collaboration tools.
With so many collaboration tools out there, finding the best one for your needs and preferences is quite challenging. To help you out, we give you the widely-used tools that you and your team can consider using.
This collaboration tool is known for its user-friendly and uncluttered interface. Asana also provides you with functional units that are easily distinguished from each other. With stunning visuals, this tool isn't just easy to navigate but also exciting to use.
This feature-packed tool makes it easier for you to stay connected with the team, hit deadlines, and reach your objectives. Another reason to make it worth using a collaboration tool is that you'll always know the status of your projects in real-time.
Trello relies on a card-based approach to manage the project. To put it simply, it's a digital version of the classic sticky note board. In this case, all you need is to drag and drop tasks from one column to another to update the progress. But, it can get a bit unwieldy to handle when you have tons of projects with hundreds of tasks.
If you're looking for flexible and affordable project management for your small projects, you should include Trello on the list. Even though the features aren't as rich as Asana, this tool still provides you with basic collaboration features for free (there is also business class subscription).
Basecamp is much more than a stale to-do list tool. It offers almost all the features you need for collaborating around tasks and ideas, including the Gantt charts. This collaboration tool is designed for a quick, straightforward set-up.
It also provides convenient shortcuts and tricks to help you save more of your precious time. So, Basecamp can be an excellent option if you're looking for a clean, simple interface to manage tasks for your small team.
Wrapping Up
The COVID-19 outbreak has turned everything upside down. Whether you like it or not, you have to adapt to your new routines and new work environment. With all the handy tips above, you'll now be able to stay efficient and keep your spirits up to get your work at home done. But, one thing you have to bear in mind, though, being productive isn't just all about being busy. So, make sure not to lock yourself working at home all day. It's also crucial to take extra care of yourself to avoid work from home burnout and mental block.