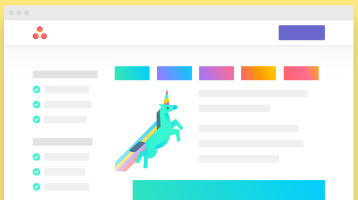 Asana online productivity tool is helping thousands of teams set their goals, track their projects, and complete their missions. It is a workflow management and collaboration software available for free for teams up to 15 members. Users from businesses and organizations of all sizes are tracking their to-dos and communicating more efficiently than when they were using email only. It is a flexible tool with a set of features providing work visibility and task management. However, many companies still consider it incomplete for handling full-on project management functions.
The Top 5
Fortunately, Asana has strong integration features. This provides users an opportunity to add tools and features from third party application providers. By adding the right software to the already strong task management and collaboration platform in Asana, teams and organizations are able to build the right project management tool for their specific requirements. Below is our top 5 choice of add-ons that can help complete your business productivity solution.
1. Bridge24

Bridge24 for Asana is a free, versatile and powerful add-on that works seamlessly with the team productivity tool. Users connect with one click and gain instant access to all their work information and details in Asana. Bridge24 provides users important features that enable them to have both insight and control of their data. The Power Grid lets users see, filter and manipulate data inside a flexible grid. They can then export these into Excel or CSV format. Users can also generate a Kanban board view, a Calendar view, upload attachments, and others. Furthermore, they can choose English, French or Spanish as their preferred language.
2. TimeCamp

TimeCamp is a time tracking software that allows Asana users to track the time of their tasks right within Asana. It is a great add-on especially for tracking billable hours of client projects. Knowing how much to bill clients is important for business profitability, growth and competitiveness. TimeCamp also has timesheet and approvals features. Users can also import the tasks created from other PM tools and use the time tracking software for its invoicing features, time analysis and reporting, attendance and time-off management.
3. Kasban

Kasban is an add-on that instantly displays Asana projects in a kanban board. Users are able to view and edit their projects in a kanban board view. By going to the Kasban site, authenticating, and clicking Projects, Asana users can now create, manage and move their tasks easily as cards in a list. Users can view all completed tasks in a list. Also, the add-on and the main app are in sync, so information is always updated. The add-on is free of charge, and especially valuable for lean/agile practitioners. The ability to assign tasks to team members inside the kanban board view is an upcoming feature.
4. Instagantt

Instagantt is a web application that creates Gantt charts for Asana. It offers a freemium plan where users create an Instagantt account, then sign up using their Asana account or use the Connect feature. Gantt charts are used by many teams especially for project management. It is a proven effective PM tool that the add-on provides to users. The Gantt charts can instantly show tasks, task dependencies, start and end dates, and durations. Moreover, users can edit all these within the chart, which syncs with the main application in real-time. Users can also track schedule changes with baselines, export a chart as an image or share it as a public snapshot.
5. Everhour

Everhour is a time tracking and reporting add-on. Asana users are able to track time for any of their tasks with this tool. Also, they are able to set up estimates for the team and see the total hours. Users can track time using the timer button or log time manually. Everhour offers a 14-day free trial. It integrates seamlessly with Asana so that the timer and time details appear natively inside the main app. Aside from time tracking, users gain access to a variety of comprehensive reports. They can see the time for each team member and compare it to their estimates. Users can also specify a date range, add or exclude a tag from the report, and add as many data columns as needed.
Conclusion
Asana is a popular and powerful team productivity platform. It is a great choice for users to build their project management solution on with its intuitive design, collaboration tools, and customizable features. It integrates and works well with many applications that also allows users to choose the right add-ons to fit their unique requirements. Users can start on the top 5 recommendations here, so that they can gain greater control over their project data with more views and better tools.