Asana is being used by a great number of teams today to help them plan, manage and track work. It is a modern web-based tool that is transforming the workplace. However, many people are still using email today as the simplest and most direct way of communicating with coworkers, or clients, customers and other external partners. In fact, we spend a significant amount of time, for instance, using Gmail in answering a teammate's query or discussing a strategy with a client. Unfortunately, email is not an efficient tool for tracking to-do items. That is Asana's strength. The good news is now there is Asana for Gmail add-on. For a powerful extension to Asana, give our own tool Bridge24 for Asana a try, or access it on their Integration page.

New Asana for Gmail Add-on
Asana for Gmail add-on is available to install from the G Suite Marketplace. The add-on enables users of both applications to do many things they normally do only in Asana. For example, they can turn emails into tasks without leaving their Gmail inbox. And Asana tracks all these. Thus, when answering an email from a client, he or she can turn it into a task and then act on it for completion. Otherwise, reminders will inform the user that he or she has a pending task. As such, they lose nothing, and can track everything.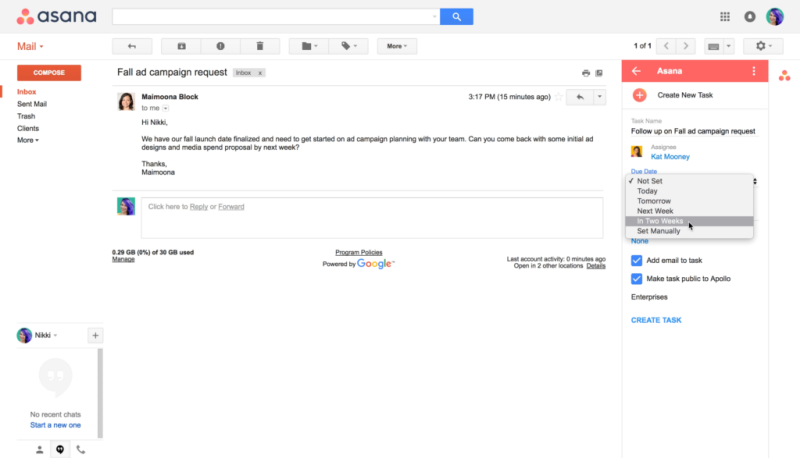 Working within Gmail, a user can easily turn an email request into a task, assign it to one's self or a team member. It can also have a due date, belong to a project, or have attachments. When an email and a task are linked, any action done to it either in Gmail or in Asana will appear in the Asana sidebar in Gmail or in the task in Asana application. Moreover, users can work on the 'tasks due' email reminder that Asana sends directly from Gmail. Users simply have to select the task, comment on it, or complete it. Searches for a task also is possible from within the inbox.
Popular Workflow Examples
Asana for Gmail add-on is a flexible tool. Aside from turning emails into tasks, there are other ways to turn a conversation into action.
Agency Campaign Planning: Convert client emails into tasks and attach them to specific campaign projects in Asana. As the rest of the team make progress on the campaign work, the user gets the update and can communicate it back to the clients.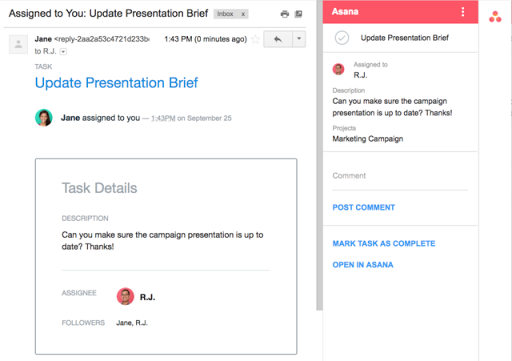 Recruiting: Email thread conversations with job candidates is turned into tasks for hiring managers. They can confirm or share feedback, which appears on the Asana sidebar in Gmail. When the interview stage arrives, these information are available, so setting a schedule with the applicant proceeds smoothly.
Event Planning: Users can easily communicate with vendors for an event. They can add the changes in deadlines and budgets as tasks. The rest of the internal team sees the changes and can approve of it. They can then send the approval to the vendors. One can do all of these without having to leave the inbox.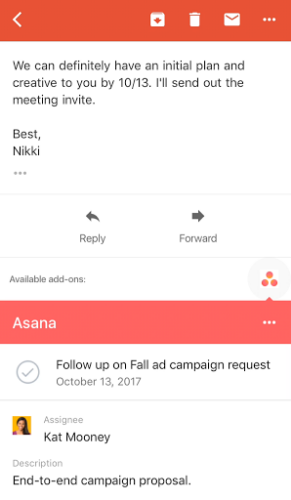 Best of Both Worlds
Asana for Gmail add-on is a versatile communication and task tracking tool with many possible uses. By turning any email into task, one can always remember to take action, get reminders about its due date, and prevent it failling into cracks. The add-on is also available in the Gmail mobile app, so users can send emails from their phones. At present though, users can install Gmail add-ons only in non-admin accounts. Add-ons are not available also for Inbox for Gmail.
For more of the latest announcements on add-ons and other features, visit Asana also on Facebook, Twitter, LinkedIn or YouTube.