Asana is an online productivity tool that enables teams to have the clarity to collaborate successfully. The project management and work tracking software provides all users the visibility to know who is working on what by when. There are no more blind spots. Its features also allows teams to do things efficiently, so they can save time from admin tasks and spend it where it matters most. One example is with the use of templates. Now, users can avail of more templates for a variety of teams and goals. For a powerful reporting and exporting tool for Asana, give our own tool Bridge24 for Asana a try.
Asana Project Templates Gallery
The New Asana Project Templates Gallery is a central location where users can choose a pre-built template depending on their team. From the site, templates are further grouped under Marketing, Design, Engineering, HR, IT, Operations, Cross-functional, and Product.

Templates by Team
Under the Marketing category are 7 ready-to-use templates that follow common marketing workflows. Templates such as for Agency Collaboration, Marketing Campaign Plan, and Creative Requests, among others, help teams plan and manage their content, campaign, launches, and more. Design templates total about 6. Creative Asset Feedback and Approval, Design Project Plan, and User Research, are some of the templates that can help make the process to prioritize, manage, and approve design work flow smoothly. There are 3 Engineering templates, 8 in HR, 4 in IT, 6 in Operations, 9 Cross-functional, and 6 for Product.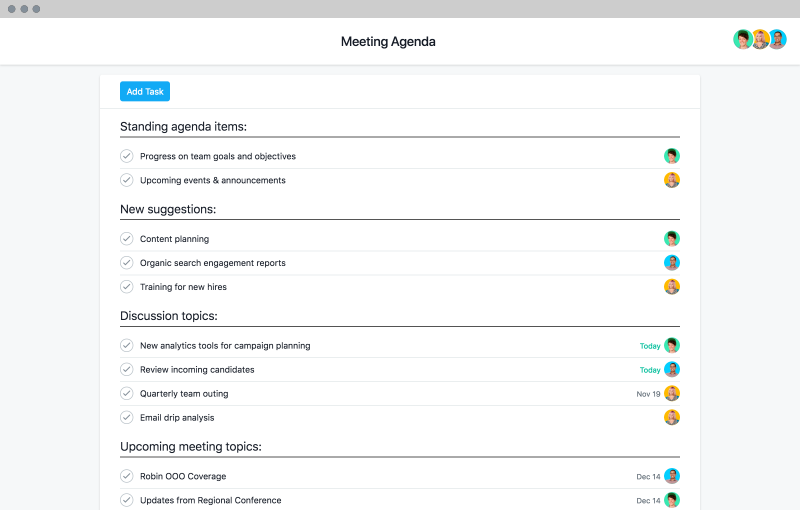 Asana-created Templates
Users of the free version can avail of the templates for Asana Onboarding, Meeting Agenda, Team Brainstorm, or Project Plan. However, Premium and Business users have access to most of the pre-built templates, such as those used for company goals and milestones, event planning, product launches, and more. Asana-created templates provide several benefits. It is a fast and easy way of adding new workflows to the organization. Also, using these templates enables teams to follow suggested ways and best practices of tracking work. Further customization is possible to match the team's exact needs.
How to use Templates
Creating a project from a template involves quick easy steps. The first step is to click the orange Omni button in the top bar. From the dropdown menu, select Project. Another way is to click the '+' button under recent projects in the Homepage. From the new page that appears, users can choose a template from existing Asana templates, or choose from the General templates tab.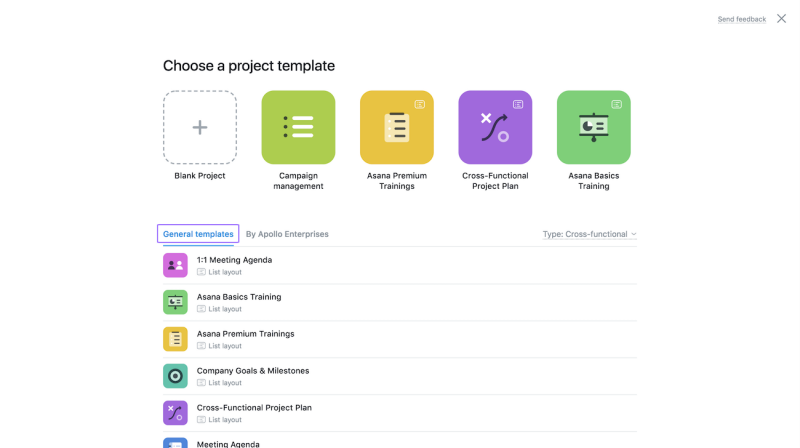 When unsure, they can also preview a template to see what it looks like and how they could use it. If applicable, they can then click the 'Use Template' button on the upper right corner to start using it. They will have the option to rename the template, and choose which team the project should go in. They can also share the project to the team, or make it private to project members. When all the details are added, they can click the 'Create project' button.
Use Cases
The new Asana-created templates will help teams start their projects on the right track. For instance, the Cross-functional Project Plan template can help a user organize his/her project to-dos into different sections, visualize deadlines on a timeline, and communicate with team members, all from one project. The Marketing Agency Collaboration template, on the other hand, can help users set up a project in Asana, invite agency partners to collaborate, and create tasks for different deliverables. They can then move each task along the stages as work gets underway. They can even use custom fields to track priority, approval, stages, and budget.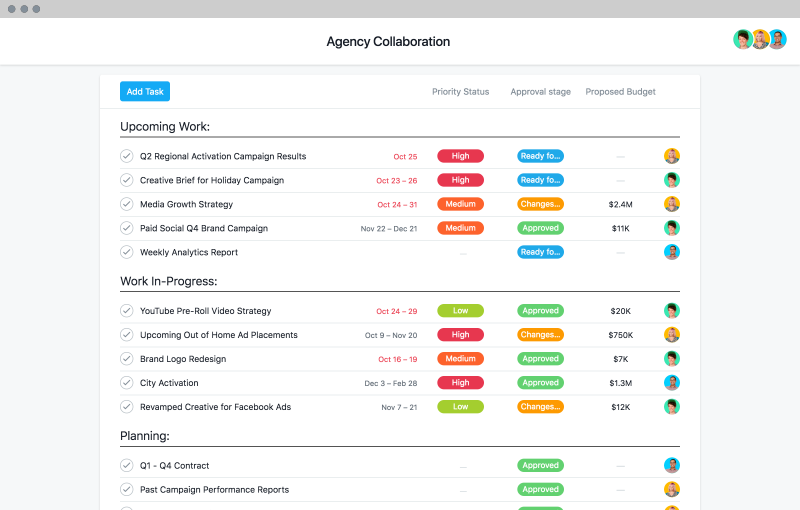 To learn more about templates, their use cases, and other productivity news, visit also Asana on their Twitter or Facebook page.