Asana helps teams collaborate better, so they can focus on goals and projects. Users are able to concentrate on their daily tasks, visualize the greater effort and share progress easily. During the course of the project, the completion of a certain number of tasks at a certain point in time can signify if things are proceeding as planned. However, tracking the progress of multiple tasks with different end dates can take more time. Recently, Asana rolled out a clearer way to identify larger project checkpoints through Milestones. The new feature provides teams a good indication of how their project is progressing. For a powerful reporting and exporting tool for Asana, give our own tool Bridge24 for Asana a try.
Mark with Milestones
Milestones are new visual indicators that mark important points in a project. They appear as a diamond icon or figure visible in several views. This feature is available to all Premium, Business and Enterprise customers. It helps keep everyone aligned on progress, and also give teams small wins throughout the execution of the project. Milestones can represent a number of significant points in the project. They can represent critical tasks that must be completed at a specific time. They can symbolize the end of a phase or stage of a major piece of work. Milestones can indicate a major event or deliverable. And they can also stand for project goals and key results (KRs).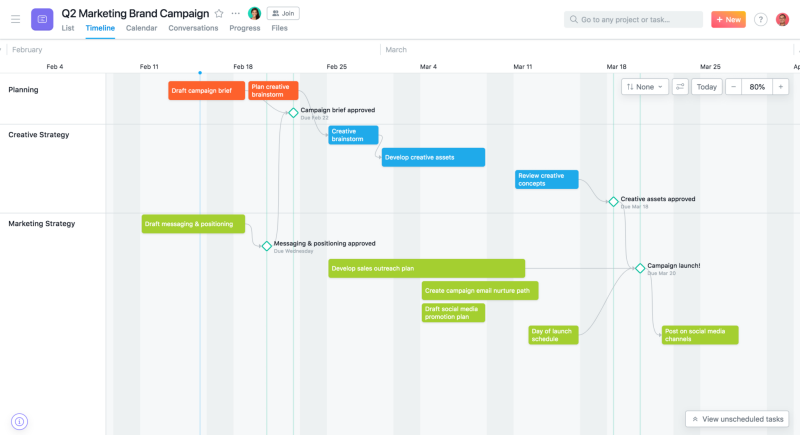 How to add Milestones
Milestones in Asana exist as a new task type. To add or create a milestone, go to a project in list view. (1) Click the dropdown arrow next to the Add Task button. Then (2) select Add Milestone. Users can also add Milestones to templates. This will allow teams to work toward the same checkpoints for similar or recurring projects. Milestones can only be created in project list view, but they are visible in timelines, calendars and board views. Users can also convert existing tasks into Milestones.

Benefits of Milestones
The new Milestones feature is a visual indicator that helps align everyone around critical points in the project. It guides the team to prioritize certain tasks over others. It also motivates them toward the next goal they should achieve. Milestones help team members see the breakdown of a large, daunting project. And achieving each one gives them small wins and goals as they go forward. Aside from motivating project team members, the Milestones feature automatically shares progress information with cross-functional teams. For project managers, this feature allows them to monitor critical points, so they can spot risks early. Thus, they are able to adjust the schedule or scope accordingly to keep the project on track.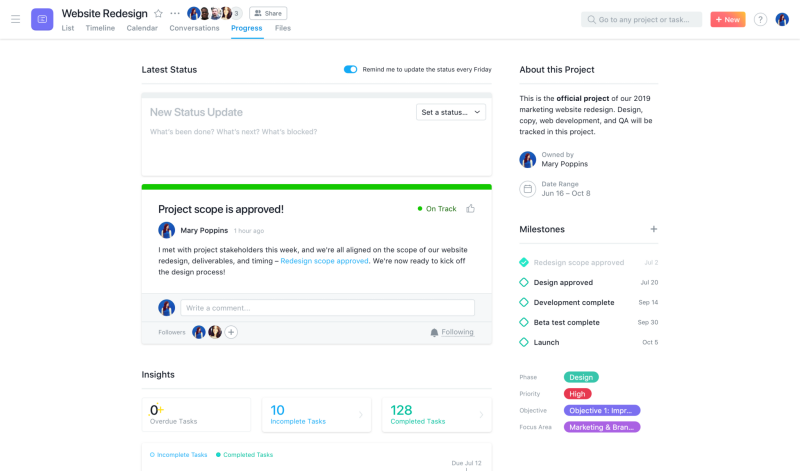 Other details
As the Asana Milestones feature is being rolled out to customers with paid plans, it will be available to more users. For example, in the coming months, it will become available in iOS and Android apps. For customers on Business and Enterprise plans, they can monitor project progress using Milestones in Portfolio view as well. At the moment, using search for Milestones is not possible. Also, Milestones will only appear at the user's My Tasks if they are assigned to the user. For more information about Milestones, new features and other product updates, follow Asana on Twitter or Facebook.