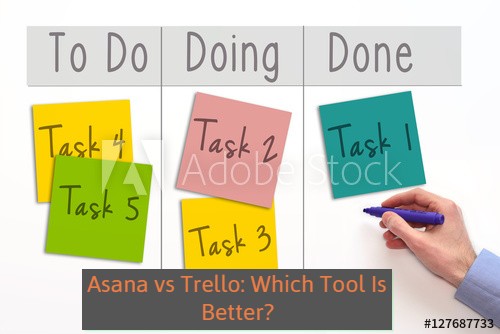 Between Asana and Trello, how can a project manager determine which tool is better? Fret not, this article will breakdown the different features between the two, so one can best decide which one fits the most to a project.
The success of Asana and Trello
Although Asana and Trello are both successful, Trello has gained more popularity. Trello has reached over one million active users every day in 2016 and it continued to grow after one acquisition by Atlassian. Today, one million teams are enjoying the services of Trello.
How Trello looked like when it started: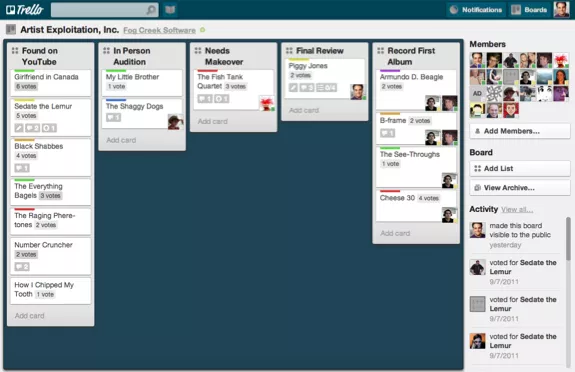 In 2018, Asana proudly had 50,000 paying organizations. The founder of Asana celebrates steady progress and is not intimidated by competitors (including Atlassian) even if it is a smaller company. Trello does not only focus on business that is why its numbers are bigger. More so, it is starting to target big businesses. On the other side, from the beginning, Asana already presented itself as a "work management platform for teams" and is more business-focused which validates why Trello has more market.
Asana's UI in 2011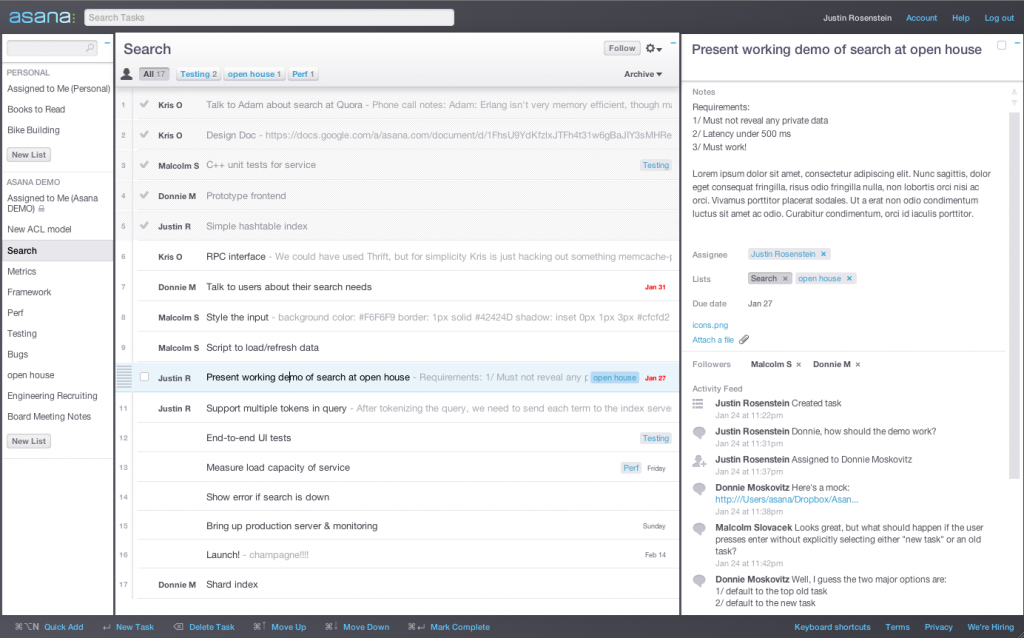 Pricing of Trello versus Asana
The pricing of the two tools is almost alike. However, early in 2019, some of Asana's plans were cheaper for small teams which was $6.25 every month for every member.
The pricing details are valid as of June 2019
| | |
| --- | --- |
| Trello Pricing | Asana Pricing |
| Free $0.00 Business Class $9.99 per month per user annually Enterprise $20.83 per active user, per month (up to 200 users) | Basic $0.00 Premium $9.99 per user per month, annually billed Business $19.99 per user per month, billed annually Enterprise (Price is available upon request) |
Trello versus Asana: A review of comparison
| | | |
| --- | --- | --- |
| | Trello | Asana |
| Integrations | 200+ | 100+ |
| Key Limitation in the Freemium Plan | Up to 10 Team Boards, 1 Power-Up per board | Up to 15 team members |
| Timeline | Via Power-UP (integration) | Yes(in paid plans) |
| Calendar View | Via Power-UP (integration) | Yes |
| List View | No | Yes |
| Board View | Yes | Yes |
| Key Features | Boards, Lists, Cards | Projects, Lists, Tasks |
Signing-Up between Trello and Asana
An email address would only be the thing that one must have when signing up for both tools unless subscribing for a paid plan. It is up to the user to choose either work or private email. But Asana favors the work email address as the web domain automatically connects to one's team.
For both tools, signing up via Google is most likely. Notice that in Trello, below the Log-in button, is an option to Log-in using Google. However, Asana has no product tour. For Asana, if there are any questions, there is a guide to click which is the (?) icon.
User Interface of Trello versus Asana
After signing up, the user will be routed to the interface of the tool. Both tools may differ in design when it comes to UI, but their layout is quite the same. For Trello, the user interface appears to be compact with its wrap-up features and minimalistic with its tabs for "Boards" and Home and "Teams". In Asana, there are a lot of tabs like "Portfolios" and Favorites" which can be confusing but exploring it can be exciting.
Trello versus Asana on customization
One has the option to change the Boards' background in Trello through a particular color or picture from Unsplash. However, one must be a paid plan user to add his photo. For Asana the user can change the background of his profile but not for a specific project. For a project, there is an option to set a highlight color. For language, Trello has 21 available languages while Asana has 6.
Basics of Trello versus Asana
It is important to review the functionalities of both tools to better understand its differences.
Let us see the difference by going first with Trello. After signing up what happens next? Here are the four things to keep in mind:
1. Create a Board
The key concept of Trello is the Board because assigned tasks can only be within a board. Nothing much can be done without a board in Trello and it can be public or private.
2. Create Lists
After creating a board, setting up of lists is next. It consists of columns where the cards can be moved around (to do's and tasks). Most users create three lists namely: To Do, Doing and Done. Simply drag and drop the cards from one column to the next until the task is complete.
3. Add a card
Next to board and lists is creating a card. Like a "to-do".
4. Specify a card
This task can be assigned to anyone, adding due date, description, and comment, attachments, checklists, etc.
What to do next after signing up in Asana? There are also 4 things to familiarize:
1. Add a task
In Asana, one can immediately create a task which is not the case for Trello. The created task will show in the tab "My Tasks". It can be added to a particular project anytime.
2. Specify a task
After creating a task, one can add detail, as well as comments and files to it, and create checklists and more.
3. Create a project
One can organize his tasks in connection to a particular goal by creating a project. At this point, one can choose a layout, list or board view, and set up the project to a privacy setting.
4. Add or rename columns
Columns are automatically set up if one chooses a board view for "To Do", "Doing" and "Done" but an option to rename them or add other columns is there.
The three basic differences of features for Trello versus Asana
1. In Trello, only the board view is available, while Asana has both the board and list views.
2. In the Freemium plan, Trello has restrictions on the number of Team Boards and Power-Ups.
3. In Trello, to expand one's capabilities, Power-Ups will be often used, while Asana has more built-in features (mostly paid).
Wrapping up on Trello versus Asana
Trello and Asana are both solid project management tools with various features. They have similar pricing and both provide the Freemium plans.
As a project manager choosing between Trello and Asana, consider these:
Search
File Management
Communication
Integrations
Freemium plan limitations
Tasks view
In conclusion, Trello and Asana are equally great tools. Each of its features is the basis to consider when choosing either of them for a project. Trello would be the choice if one only needs the basics. But for more features and versatility, it would have to be Asana. So when organizing a project online with a virtual team, Trello and Asana are the way to go.