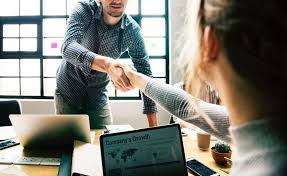 Customer Relationship Management (CRM) is an integral part of every business. It is concerned with the strategies, technologies, and practices that companies use to interpret data and customer interactions. CRM basically aims to drive sales growth while assisting in the retention of customers and improving customer relations. This is done by implementing points of contact between the organization and the customers like direct mail, live chat, and website. It also has customer-facing staff who are provided with detailed customer information, concerns, buying preferences, and purchasing history.  All of these can be done with the help of effective CRM software.
What is CRM software?
The most basic CRM software puts all documents and customer information into one CRM database that business owners and managers can easily access and manage. Over time, more features were added to make this kind of tool more efficient and effective. Today, CRM software already has the capability to record customer interactions through phone, chat, or email. More advanced ones have automated processes such as calendars and tasks.
CRM software vs. project management software
Oftentimes, people find it hard to see the demarcation line between CRM software and project management software. The paragraph below compares and contrasts the two.
Similarities:
Both use emails, one is for email marketing while the other is for integration
Both have a time-tracking capability
Both use a system for organizing their contacts
Both include project management or planning
Differences:
CRM software is for customer relations and data and focuses on the external activities of a business, while project management software is on business goals and projects. The latter plays on clear dates, deliverables, and budgets.
CRM software is for customer support, interaction and follow-up tracking, visitor tracking, and referral tracking. Project management software is for budget management, portfolio management, project planning, task completion monitoring, and workflow reports.
CRM software aims for the long-term success of clients while the other software has specific start and end dates of projects.
Given these facts, is it possible to use CRM software for project management or project management software for CRM?
Asana: project management software
Many small and big organizations use Asana to manage their projects and ensure that they are always on the right track. Asana does the tedious tasks for its users through automation to reduce errors and save time for more important matters. It provides a virtual workspace for teams to collaborate on projects and make sure they are completed. Project managers are able to create tasks, assign them to members, and set a deadline for them. Asana serves as a communication and collaboration tool, replacing separate email and chat applications.
Asana as CRM software?
Clearly, Asana was created as a project management software. However, is it really just that? Can it be used as CRM software at the same time? Given that CRM software and project management software have to be kept separate, can Asana also be used for CRM?
Because of the similarities of both types of software, Asana can also be used for CRM. In fact, even during Asana's launch, a lot of users have already expressed how they are able to use it for CRM. This is even truer now that it has launched new features or rules that help teams use it for CRM. Asana is being prepped to manage various teams within an organization, including sales and marketing.
Here are two of the best practices for using Asana as CRM software adapted by many organizations.
Users can use customers as the Project or Task. Then, in the notes and comments section, teams can record every interaction the business has with the customers. These interactions may range from generating leads to keeping relationships with customers.
For lead generation, each opportunity or lead is labeled as a task. It is possible for teams to find prospects and see that there are more than one potential projects with them. In this case, each prospect gets assigned numerous tasks, each for every project. Each of these tasks is labeled a specific name like 'Prospect Z – Potential project for X'. Then, the subtasks of the main tasks are the actions that lead to sales like a demo, initial call, and follow-up. Every stage of the process is defined as a separate project like negotiation, validation, closed deal, or closed no deal.
How to use Asana as a CRM
When experts come together, they are able to generate a lot of ways to effectively use Asana as CRM. Here are some examples.
An Asana user for customer success shares that every customer is a task in a central project. For the central project, they put different fields for the core information that they track throughout the customer journey. Some of these are key contact and contact email, outreach touchpoints, industry, plan size, geo, success stage, sales status, and a few more. The customer is also able to add to the project, specifically in the program they belong to. Then, the CSM who manages the account is the assignee for that task. After the contact is created, the CSM now creates subtasks of the touchpoints like calls and feature requests on the parent task. And when there are issues or concerns, these are communicated on the parent tasks so that other members can also see customer updates.
Another Asana user uses different CRM software but he uses both that and Asana in a coordinated manner to take advantage of their capabilities. When a new lead gets added to the CRM, the user creates a task in Asana which is assigned to the Sales point-person. Within this task, he puts the contact information of the lead both in the title and the task itself. This is helpful and time-efficient because the Sales point-person only needs to stay in Asana. He can see the due date from Asana whenever he tries to make follow up calls. This set-up becomes even easier and more convenient when users can integrate their CRM with Asana.
One certified professional user of Asana shares how he uses the software as a CRM. The following are the simplified steps of how he does it.
In the above screenshot, 'Templates' can be seen which is where users can find the templates for creating a contact, opportunity, and deal.
In the template for the contacts, necessary fields need to be filled like the contact's email, Skype, and phone. There is also a step-by-step guide for creating a contact that even beginners can easily follow.
Subtasks are also already provided which are generally often used by most teams.
The next template is for creating an opportunity which comes in when a contact has been created. In the above screenshot, a step-by-step guide is shown of what must be done after duplicating the template and making it a subtask to the contact it refers to.
Each opportunity already has subtasks that will help increase the chances of transforming a lead into sales.
As to the deals template, it is the same as the opportunities template where subtasks are also already provided. Additionally, when creating contacts, users can use the opportunities and deals templates as subtasks so that the template becomes a complete contact with its own opportunities and deals in view.
Conclusion
While large-scale businesses need advanced opportunity management, customer communication capabilities, and service desk capabilities, the smaller ones don't. This makes Asana a good CRM tool as it has all the basic capabilities of a regular CRM software. For one, Asana is cloud-based and integrates with many applications like email, communication and calendar. In terms of project monitoring, Asana can track activities and manage interactions. Though CRM software offers project management capabilities and add-ons, these are part of Asana's core functions which make it more reliable.
However, there are also a few drawbacks of Asana as CRM software. One is that it doesn't have the capability to email the customer or lead. Two, it cannot keep a record of the customer. If Asana can consider providing these capabilities seamlessly, then, teams won't need to use separate tools for CRM and project management.