Asana team workflow and project management software recently announced the final feature being released for Polish Week. It is an Asana tradition during Polish Week when the company focuses on smaller but important issues to further improve or 'polish' the application. The final instalment focuses on the status update feature, in itself, an already powerful tool for providing teammates and stakeholders vital information. Polishing this feature further, users can now put comments and take the information to a higher level of engagement.
Project Status Updates
Asana enables project owners to communicate the current state of their projects through project status updates. This visibility is important to the project team and to the stakeholders who want to know how things are going on with the project, whether things are going on as planned or whether it needs additional attention or help. It is therefore essential that project owners update their project's status on a weekly basis, and the application allows them to set up reminders to do exactly that. Thus, project members, especially those who want only a high-level view of the project, can easily know about milestones reached, roadblocks encountered, changes in the timeline, or any other progress report through these status updates.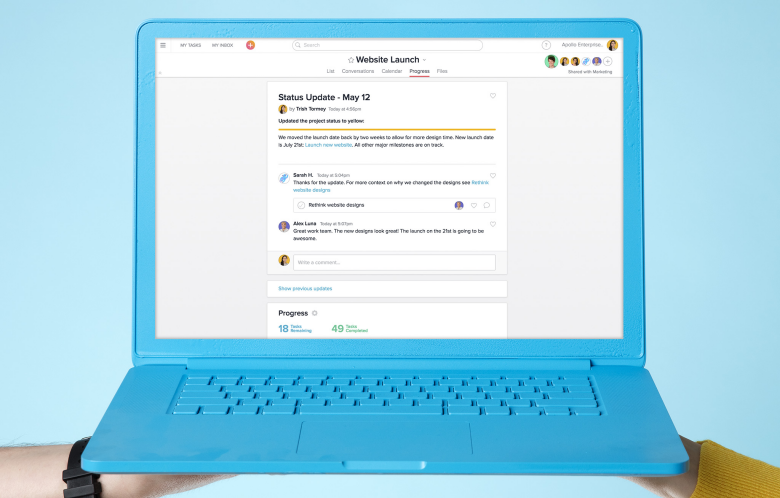 How to Post a Status Update
Project owners can post a status update by navigating to the Progress View of their project. They can select a status color, a visual indicator similar to a traffic light where green corresponds to a project being on track, yellow meaning it is at risk, and red indicating the project being off track. On the text area, they can describe any event, milestone, or roadblock that the project has reached or encountered since their last update. Links to relevant tasks, projects, conversations or teammates can also be placed. Team members who are following status updates will get a notification from their inbox about the latest update.
Project Status Updates vs Project Conversations
Asana project team members are now able to put comments on status updates. This provides the opportunity for better engagement as they can post congratulations for a project that is successfully reaching its milestones. They can also post questions or share ideas instantly. Status updates are recommended to provide weekly overview and upcoming events for a project. It is the right place to post when milestones are reached, when roadblocks are encountered or when plans and their timelines change.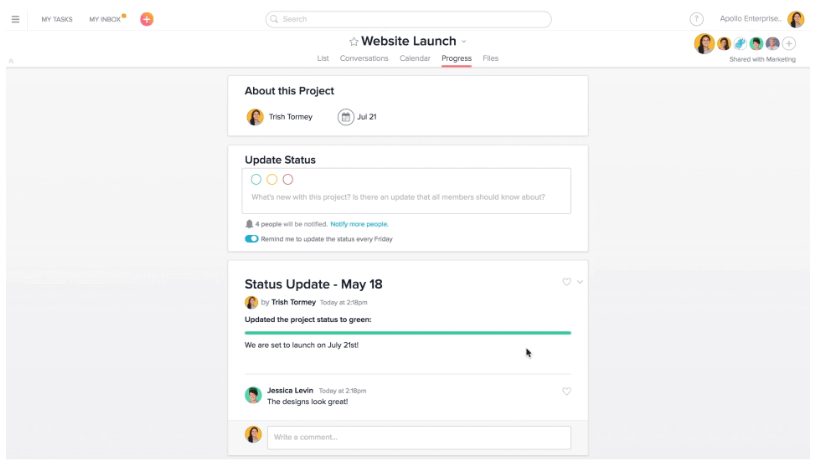 Project conversations, however, are better used when dealing with the team or with ideas. It is recommended when checking in with teammates how they are feeling about the project. It can be used to brainstorm ideas regarding tasks or to ask those involved about general questions or feedback.
Polish Week Comes to an End
The Polish Week tradition of Asana comes to an end with this final feature of allowing users to post comments on project status updates. It is completely aligned with the company's mission to help teams work together effortlessly. Check our previous Polish Week Updates post for the other new features that focused on quick adds, due dates, and mobile comments. To get the latest updates from Asana, visit also their Twitter, Facebook, LinkedIn and YouTube pages.